Barb Angell
Member of the Writers' Guild of Great Britain Barb is Australian born but lived and worked in the U.K. for more than 20 years before returning to Australia to work for the Grundy Television organisation, then forming her own company Angell Productions Pty Limited.
E-mail: angellproductions@bigpond.com.au Website: www.webrightservices.com/angellproductions
Angell Productions is in TV and film production, specializing in educational videos. Top movie scripts also, under sub-contract. We'll quote for your next project and you will be surprised how reasonable we can be. We work internationally.
---
Barb Angell is represented by: Roger Hancock Limited, 4 Water Lane, London NW1 8NZ, United Kingdom, Tel: +44 (0) 171 267 4418, Fax: +44 (0) 171 267 0705
---
Biography: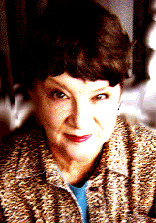 Barb was educated at Presbyterian Ladies' College in Melbourne and from there studied for Diploma of Music at the Melba Conservatorium. Her first acting job was in the W.C. Strode play "The Guinea Pig" at the Melbourne Little Theatre. From there she went to work as a dancer-comedian with the Tivoli Circuit and remained with it for the next 4 years. As a teenager she was a member of the dancing line-up on the opening night of Australian television (Channel 9, 1956) and was a member of the cast of the very first television variety show, "Tivoli Party Time".
She made her first trip to the U.K. in 1959-60 where she was introduced to Revue and began to write short material including sketches, music and lyrics. On her return to Australia she formed her own Revue company and co-wrote and produced a series of successful stage shows. There followed many years of television as well as stage appearances. She was an original writer of the satirical "Mavis Bramston Show" and ended by starring in it as well as writing for it during its 4 years of production.
Stage acting appearances continued with "The Slaughter of St Teresa's Day" at Melbourne Little Theatre, "Black Comedy" for J.C. Williamson with Madge Ryan, Trevor Bowen and Patsie Trench before she once again left for U.K.
The next 20 years were spent in England where she appeared in TV dramas and comedies including "Doctor in the House", ""Staying On", "The Jensen Code", "The Top Secret Life of Edgar Briggs", "Not On Your Nellie", "Anne of Avonlea", "All Creatures great and Small", "Shoestring", "Angels" and the cult Australian drama "Prisoner Cell Block H".
These acting credits were accumulated in between all the writing activities listed above. Barb has also been actively involved with the Alzheimer's Associations of U.K. and Australia, serving as President of the NSW and Australian chapters. In her spare time she plays golf!
---
Presentation and codification: Roland Michel Tremblay
---
---
Soon more authors from the Writers' Guild of Great Britain will appear on this site.
If you want your biography and bibliography here, please contact: Roland Michel Tremblay
© The Marginal Literature