Guy Hallifax
Guy S. Hallifax Website, Writer for : Children's, Animation, Sitcom, Corporate
Contact e-mail : guy@hallifax.demon.co.uk Official Website : www.hallifax.demon.co.uk
Biography: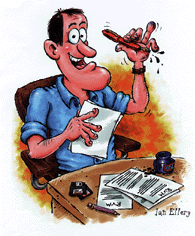 CALL THAT A CAREER?
I was born on tour and brought up backstage. The theatre was very much my life, and I worked in Lincoln rep, attended the Central School of Speech and Drama tech course then spent 5 years as a touring stage manager. If you remember that far back, I was even Company Manager of the Rocky Horror Show in the Essoldo, Chelsea. Then a chum pointed out that in TV there is all the fun of rehearsal and setting up a show, but no second night. So I joined the BBC.
Between 1975 and 1978 I worked as an AFM in Drama Plays, then Series and Serials. Shows included The Brothers, The Onedin Line, When the Boat Comes In, Scum and Shakespeare's Much Ado About Nothing.
Eventually I got the training attachment I was after : Directing in BBC Children's Department under Cynthia Felgate and Anne Reay. I worked on Play Away and shot 'Through the Windows' films for Play School. Brilliant. I sold my first script to Play Away in 1979.
I eventually left the BBC and found myself virtually unemployable, so spent a year working in the lucrative world of commercials as AD and Locations Manager, before landing a job at Blackrod, an independent production company. I was Production Unit Manager of "The Spice of Life" a huge 13-part documentary series. While there I also started writing and directing corporate videos. It was great. I travelled a lot and got to interview many interesting people. I wrote and directed several comedy dramas for corporate clients, and made a lot of CD-ROMs as well.
Meanwhile I was introduced to a designer friend of a friend who had an idea for a pre-school children's puppet series. I wrote a spec script, then another, and soon we had a commission. Amazing. The show was Orm and Cheep. It was a huge success, topping the children's charts. I wrote all 26 episodes, plus the various books which spun off the series.
I left Blackrod in 1985 and now continue to write and direct the occasional corporate video while I spend most of my time writing for children. I do a wide variety of writing, from strip cartoons to text stories in magazines to animation scripts.
I have set up a Company with two chums : PHEW!! We create and develop children's characters. We also develop animation series, and do publishing and comic work. Call us at phew@email.com. We do more work on other people's characters and intellectual properties at the moment than we do on our own, but PHEW!! is less than 3 years old, and we are still making a name for ourselves. Watch this space!
My main displacement activities are with 2 charities : ACA (Action for Children's Arts) and the Attic Theatre Company, a fringe theatre company based in Wimbledon. I am also on the WGGB Children's Committee.
WRITING CREDITS :
I first got paid for writing by the BBC in 1979 : a 4' sketch for CBBC's Play Away.
Writer of Children's ITV Series "Orm and Cheep". 26 x 10". Top rated children's series, with a best audience of 7.15m, beating even Blue Peter. I also wrote the associated 64-page Annual and 6 books. Primary audience was pre-school, but also attracted teen cult audience. Verse narration and text dialogue was admirably managed by Richard Briers who did the voices.
Writer and director of two videos for the Banking Information Service. The first on Information Technology in schools and the second on personal money management. Both were aimed at 12-16s.
Creator and writer of the WHSmith children's club "The Smith Set". For an annual £3.95, children got a Welcome pack with stories, games and badges, a Birthday Card, an Advent calendar and 4 full-colour magazines. These last contained up to 16 pages of stories, reviews, articles, jokes, competitions, strip cartoons and editorials. With the obvious exception of the letters page, every word written by me in character as the 5 cats who ran the club. Key target age was 6-10. Club was phased out in 1992 after 3 years despite having 100,000 members.
I wrote a number of promotional campaigns aimed at children, including for the Daily Telegraph, Sealink and Ready Brek. I also devised and wrote a form of TV Trivia game for Scotch Videocassettes for a target age range of 18-30+.
In 1994 I was the writer and co-creator of the first TV Business Game Show : "A Seat On The Board" for the ITV Network through Action Time and Carlton. I wrote 4 of the initial commission of 6 programmes. The shows were all shot and edited, but never transmitted. I now have half a million pounds-worth of BTV showreel!
After Orm and Cheep, I set out to create my own children's character, and came up with "Slim Pig".
I wrote the original 15 x 10" episodes. The series was commissioned by Dawn Airey at the ITV Network Centre, but was eventually re-written in American and produced by the Children's' Television Workshop of New York. Original transmission was on The Cartoon Channel in 1996, then CITV 1997 with an average audience share of 34%. I am no longer associated with that producer.
In 1996 the Partners Hallifax, Ellery and Wells formed PHEW!! (Yes, it is an acronym) to create a new children's character for Noel Edmonds : "Phibber the Lying Toad". As a full body suit the speaking character appeared initially in a Theme Park. As a redesigned puppet, he then featured on Noel's House Party in its final season.
I wrote 33 stories for "Wally's World" magazine. This weekly children's magazine had a 4-page text story with illustrations. The first year covered geographical subjects, the second year was historical.
I just made up 1200-word stories about Wally and his chums in the location or period of the week.
With PHEW!! I created "GoDoDo" a new computer animation series currently optioned by Sleepy Kids Plc. It is a surreal comedy aimed at the pre-school market.
We also created "Robots v Monsters" , a 30' animation series. This one was picked up by Stardust Entertainment, a German animation company. We wrote the bible, a sample script and sales brochure, as well as the 3-minute animated pilot video. The project is currently seeking finance.
We also do work on other people's shows. We wrote the bible, pilot script and storylines of a 5' computer animation series "Yazzoo Wazzoo" for Granada TV and Slave to take to MIPCOM in 1998.
I wrote an episode of "Animal Stories" 5" animated TV series in verse for Tony Collingwood Productions. My story was called "Rat". I enjoy writing poems.
In 1998 I was asked by a couple of first-time producers to be lead writer on a team-writing project for a sitcom spec script . It was a nice idea and I enjoyed the team-writing thing a lot. The show was called dot.com and was about a female, middle-aged professional shopper taking over running a cutting-edge computer company. The show is currently seeking finance.
You will need an ON Digital box to see them, but in 1999 I wrote 24x5' illustrated stories "The Shop on the Corner" series for Carlton TV's Tiny Time. We are currently seeking publishers and looking to exploit the non-broadcast rights on this series in conjunction with Carlton International.
In September 1999, a new character will appear on CBBC as puppet presenter linking all their shows. "Emlyn the Gremlyn" will also feature on a page as a comic strip in the CBBC Annual 2000. As with most of our work, I wrote the piece and Ian Ellery illustrated it (which is easier to write than to say). It was a big, competitive pitch to win, and will be a high-profile character. Nice one!
We have a current portfolio of over 20 projects looking for development, broadcasting, publishing or funding, and in case you thought my range was too limited, I also have 3 other sitcom spec scripts on file as well as 2 children's novels. Some day...
In the meantime, we are developing a number of projects for their copyright holders, mostly adapting publishing or merchandising successes into TV animation series. We are also working in the leisure industry and are heavily into merchandising.
So if you want children's scripts or illustrations or you are looking for new characters, ideas, or want a bible, scripts and storylines to take your own project into a new medium, who you gonna call?
Guy Hallifax
20, Harewood Road, London, SW19 2HD, UK
Tel : +44 (0) 181 543 0875 Fax : +44 (0) 181 395 0830
email : guy@hallifax.demon.co.uk Website : www.hallifax.demon.co.uk
LINKS ON THE INTERNET:
Partner: Ian Ellery
http://users.netmatters.co.uk/ian.ellery/who.is.html
The Author Link (USA):
http://www.authorlink.com/812019ms.html
---
Presentation and codification: Roland Michel Tremblay
---
---
Soon more authors from the Writers' Guild of Great Britain will appear on this site.
If you want your biography and bibliography here, please contact: Roland Michel Tremblay
© The Marginal Literature